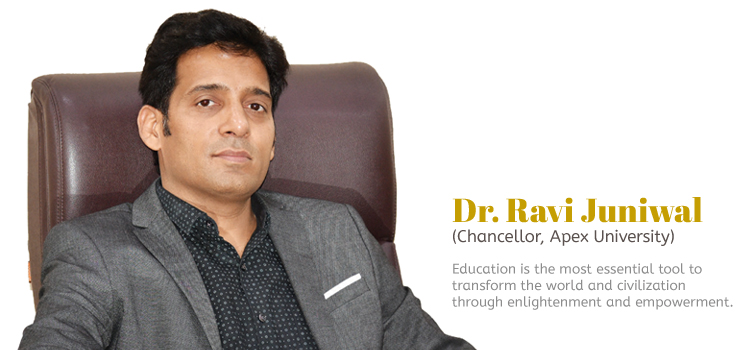 To actualize & live with the dream, the Chancellor, Dr. Ravi Juniwal is at the helm of Apex University and
the Group Institutions of Apex, spear heading to carry forward the unfulfilled dreams of its founder under his well
experienced, capable & astute leadership. Dr. Ravi Juniwal has been instrumental in planning, organizing & leading the group
institutes to new heights of success & excellence with a well-structured team of dedicated staff.
Dr. Ravi Juniwal like his father, believes that a healthy and educated society is necessary to develop an enlightened civilization.
In line with his philosophy, Apex Group of Institutions have always taken responsibility of the Society at large to ensure world
class education and a general sense of well-being.
Looking into his past credentials of vast technical & professional experience, the Govt. of Rajasthan has appointed Dr. Ravi
Juniwal to the coveted post of Chairman of the Board of Governors (BoG) of the Engineering College Ajmer Society having three
Engineering Colleges namely, Govt. Engineering College, Ajmer; Govt. Women Engineering College, Ajmer and Govt.
Engineering College, Banswara. Dr. Juniwal also has the honour of being nominated in the Board of Management of the
Rajasthan Technical University, Kota by the Hon'ble Governor & Chancellor of RTU, Kota. In view of his vast academic
experience, untiring efforts & continued patronage in the field of Higher & Technical Education, the Ministry of HRD, Govt. of
India has nominated Dr. Ravi Juniwal as the Member of the Board of Governor MNIT, Jaipur. He has also been nominated/appointed as a member of the Admission/Coordination Committees of RMAT, RMCAAT & REAP.
In his words :
"

Education is the most essential tool to transform the world and civilization through enlightenment and empowerment.

"