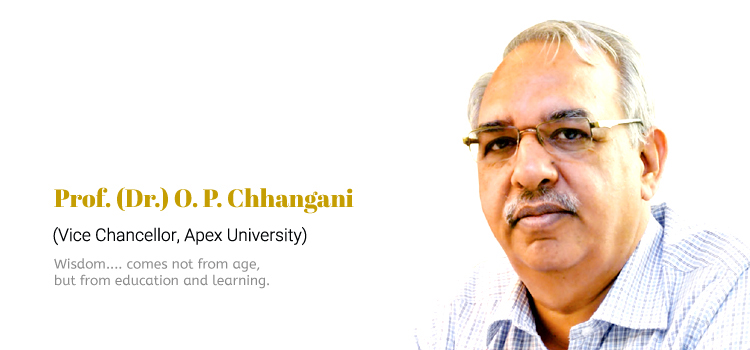 Apex group is having a long history of its role played in building academic institutions in the State of Rajasthan. The seeds which
were planted in 1965 have blossomed into a fully grown banyan tree in the form of Apex University, Jaipur and
continuously striving to provide quality human resource to the state and the country.
Apex Group motto is aptly described by the
following Chinese proverb;
"If you are planning for a year, sow rice; If you are planning for a decade, plant trees; If you are planning for a lifetime, educate
people."
With the liberalization of the country's economy the world has become flat providing opportunity to our citizens to compete with
the rest of the world's human resource. Therefore, the onus is on the academic institutions to produce world-class graduates so
that they can compete with their contemporary graduates successfully across the globe. Apex University is fully committed to not
only provide world class education but to groom students into a confident, law-abiding & a balanced citizen of this country. The
students of our University will not only be academically competent but also be understanding of the societal needs of the country.
We will continue our efforts in building the nation through delivery of high quality education as the wisdom and innovation
capabilities are the core assets in the progress of any nation in recent time;
My best wishes to the students who are aspiring to join Apex University, Jaipur as a gateway to remarkable and exciting career.
In his words :
"

"Wisdom.... comes not from age, but from education and learning."

"